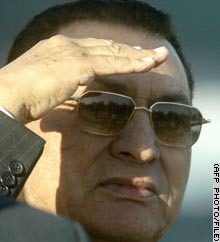 Issandr Al Amrani
has some good commentary about the recent political developments in Egypt.
Personally, I am extremely sceptical of what is happening, and I feel that those in Egypt who are very optimistic about what is happening will recognise this for a farce as soon as Mubarak is "re-elected", probably with 99.5% of the vote. If that doesn't happen then Egyptians will get the "next best thing", Gamal Mubarak. Then the ka-ka will really hit the marwaha (fan).
I think that Egypt has all the building blocks in place for making this move for real, however one has to be mad to trust the motives of the incumbent hakooma in making it. Issandr touches on this in his comments, saying that perhaps this is just another "safety valve" for the hakooma to retain power. My point exactly, the Mubarakists will stop at nothing to retain the franchise which they have set up for themselves, and if the spectacle of multi-candidate presidential elections is what's needed to appease our American creditors/masters, then they'll go ahead with it, but *only* on their inevitably convoluted terms.
I've been informed that labor unions, business associations, and others were invited to contribute to Mubarak's presidential campaign last week, at the same time the announcement was made. People are encouraged to go to the local city council and pay EGP280 to receive a poster of Mubarak. I am wondering if various licenses, permits, and other routine beurocratic procedures undertaken by businesses and individuals will now be subject to delays depending on whether one can prove having contributed to the Mubarak campaign.
Regarding Mubarak's campaign; I am sure that it has been planned in advance, taking into account all the resources the hakooma has at its disposal, including but not limited to:
- The power wielded by president-appointed governers
Intimidation tactics which have been omnipresent at all the parliamentary elections and presidential referendums
- Endless money resources
- Incomparable access to and control over media
While Mubarak's campaign has in effect already begun, other candidates simply don't have a chance - there aren't enough time or resources available to any of them to wage an effective campaign.
Of course I hope I'm wrong, and the amendment to be announced on March 12th will produce a bullet-proof election law which will revolutionise politics in Egypt. I hope that in his old age, Mubarak has decided that enough is enough, and he will resign, announcing that both he and his son are withdrawing from politics and Egypt should elect a truly representative president. I wish that we could see the nomination of candidates like Amr Moussa, Nawal Saadawi, Saad El Din Ibrahim, Ayman Nour, and Fathi Sorour. I can hope for all of this, however I am almost certain none of it will come to pass. Please let me be wrong.